Getting our industry back on track
3 August 2021
Yesterday, I welcomed the Government's decision to allow Recognised Seasonal Employer (RSE) workers from the Pacific to enter New Zealand without the need for managed isolation.
NZ Apples & Pears, NZ Kiwifruit Growers, Summerfruit NZ, NZ Wine, NZ Ethical Employers and HortNZ advocated for this decision for several months, believing that creating what amounts to a Pacific bubble would benefit the economies of both New Zealand and the Pacific, while providing growers with a needed confidence boost.
Once again, I would like to acknowledge Immigration Minister, Kris Faafoi and his officials for their efforts and for working with our industry to achieve this positive outcome.
Reality check
Last Tuesday, a couple of my team and I spent some time with the Pukekohe Vegetables Growers Association (PVGA).
Michelle Sands, HortNZ Environment Manager, took the 50 or so PVGA growers through the raft of central Government changes happening in the environment space alone, between now and the end of the year. Click here to view the upcoming policies.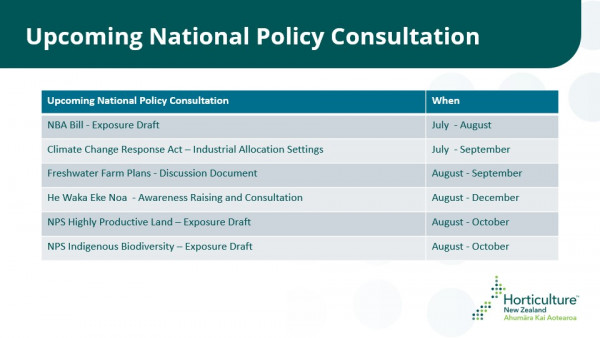 The pace and volume of change is unprecedented. The mood of growers is also unprecedented, with the comment made by one of the growers at the PVGA meeting that it was the angriest and most discontented meeting he had attended in more than 40 years.
HortNZ continues to engage with the Government at every opportunity. It is HortNZ's fundamental role, working with product groups, to engage with Government officials and Ministers on their proposals and shape them, so they achieve the Government's objectives as well as the sector's: profitably producing healthy fresh food for New Zealanders and the world, with minimal environmental impact.
Some are saying we've lost the argument in the environment space so why are we bothering. However, we must continue to engage with the Government on all their proposals because they are the decision makers. Our objective is to slow the pace of change and use the sector's knowledge and expertise to create a sustainable policy and regulatory environment in which growers can thrive. That is, if New Zealanders still want to eat locally grown vegetables in the next 5-10 years' time.
Yes, it is as stark as that. So please use every opportunity you can to get that message out there. As currently, Government decisions are putting at risk New Zealanders' future ability to eat and export locally grown vegetables and fruit.
Exporting
On another more positive side, I can report that the Government (chiefly the Ministry of Transport and the Ministry for Primary Industries) is working with exporters and shipping/logistics providers, to try and do something to ensure New Zealand produce gets overseas in premium condition and at a fair cost.
This group is working in the export lull to be ready for the next export season, which gets underway in late September. The level of cooperation is heartening to see, as this is important for New Zealand Inc.
See you at the Horticulture Conference
I am looking forward to the conference on Thursday and Friday, and catching up with as many of you as I can in person. Please don't be shy. The HortNZ Board, my team and I want to hear what you have to say so we can be sure we are conveying the right messages in the right tone to the Government.
If you haven't registered yet, it is not too late. Click here to register.