Farm Environment Plans at a glance
16 October 2020
Article by Damien Farrelly – NZGAP and food safety manager at Horticulture New Zealand.
Farm Environment Plans (FEPs) are now recognised in legislation as a way for growers to assess their environmental risks, take action where required, and demonstrate progress on environmental objectives.
The objective of FEPs is to minimise the impact of horticulture and farming on the ecological health and amenity value of New Zealand's waterways. In addition to farm maps, an FEP includes the following management areas:

In the near future, agricultural emissions (e.g. nitrous oxide from fertiliser use) are also likely to be included in FEPs to support growers with meeting the Zero Carbon Act 2019 and He Waka Eke Noa (a primary sector partnership to reduce on-farm agricultural emissions).
Growers and the horticulture industry are already very familiar with Good Agricultural Practice (GAP), and an FEP is essentially an extension to this existing assurance system. The primary focus of NZGAP and GLOBALG.A.P. certification is food safety risk assessment and management. While there are elements of environmental management in these standards, they do not currently meet the extensive New Zealand regulatory expectations for FEP content and implementation.
As a result, NZGAP has developed the Environment Management System (EMS) add-on with the purpose of supporting growers to meet regulatory expectations for an FEP as an extension to their existing GAP system. The Good Management Practices (minimum requirements) and Best Management Practice (aspirational environmental outcomes) identified in the EMS are incorporated from relevant industry guidelines and Codes of Practice, which have been developed from evidence-based research and have been tested with New Zealand growing systems.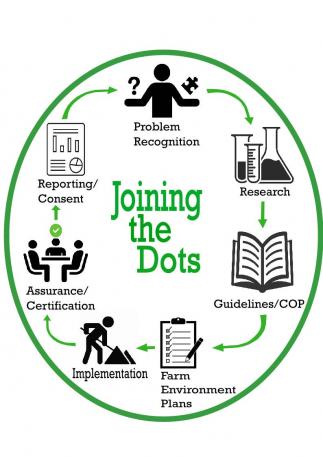 In a similar way to how NZGAP is benchmarked to and recognised by GLOBALG.A.P. and the Food Act 2014, the EMS add-on has been benchmarked to regional and national FEP requirements and is already formally recognised by Environment Canterbury. This means that growers can meet multiple market and regulatory outcomes via the one NZGAP integrated assurance system. NZGAP is now seeking to integrate data from the development and implementation of FEPs into reports for growers, catchment groups and industry bodies to support telling of the horticulture story via our 'joining the dots' framework.
For more information on FEPs and the EMS, visit www.nzgap.co.nz