Climate change – time to support our own
26 February 2021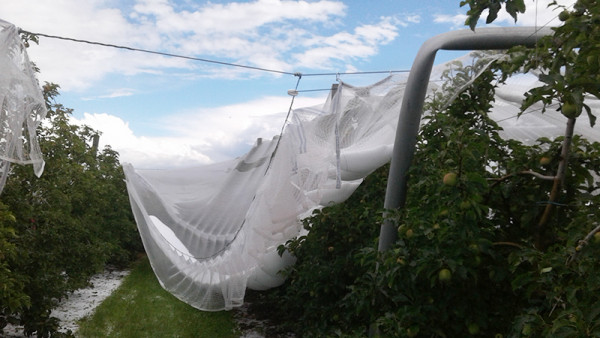 Whether or not it is the advance of climate change, we are seeing an increase in extreme weather events and an increase in their intensity. The Boxing Day hail, rain and then floods that devasted many orchards, commercial vegetable gardens and buildings is just one salutary example.
The hail was more widespread and had a much bigger impact than has been seen before. For those affected, this has brought them to the brink of financial ruin with no crop or a much-reduced crop to harvest. Added to that is the impact of Covid on labour, cost of production and shipping.
These are not easy times for many growers and unfortunately, I believe that this is a bad start to what will be a difficult and challenging year.
As we face these adversities, there is assistance from the Government in many forms, for which we are appreciative. But that only goes so far. The Government has spent billions on wage subsidies, propping up the economy and keeping a clear focus on protecting New Zealand from Covid. The health and county's medical wellbeing is however only one part of the tool kit for Covid survival.
New Zealand is a trading nation: if we do not trade, we do not survive. Our economy has lost $17 billion from tourism. As a country, we don't make cars, fridges and other consumer goods. We have some but not many technology exports. Today in this Covid world, it comes down to our primary sector to pull New Zealand through. As a result, supporting and enabling our primary sector becomes critical. There are actions that the Government can and is taking, and there are actions that we can take. In our Prime Minister's words, "it is time to be kind".
Covid and the extreme weather events has had an impact on mental wellbeing. People are affected in many different ways: some are more resilient than others. This is no weakness as we are all different and all manage stress and disaster in different ways. Click here for help in these circumstances.
It is at times like these that we need to look to one another and give each other support. We need to take our friends, colleagues and work mates out of their daily troubles and give them hope for the future.
In the rural sector, through the Ministry of Primary Industries, there are several Rural Support Trusts with plenty of help to offer. Click here for more information. But each disaster brings with it new and difficult challenges, and often these challenges are not met by what is now on offer.
I firmly believe that we need to re-work the support that is available because it was developed pre-Covid and pre- the now ever-present impact of climate change. Times have changed and with changing times, there need to be changing programmes.
Affordable housing
Without a doubt one of biggest and hardest challenges to solve today is the lack of affordable housing. Across the country, people are struggling to find somewhere safe to live. In the horticulture sector, we have our permanent workers unable to rent houses and having to live in cars, garages and on couches. We are seeing an increase in people on the street and children in poverty. You can't work, learn and go to school if you do not have the basic necessities. There is no point dredging over who may be at fault. What we need to do is develop a plan and a way out of this most crippling situation.
Every problem requires money to address it and money needs to be earned. That's where the primary sector comes in as the power house for the future of New Zealand. This is not automatic though. How the primary sector grew every year prior to Covid will not be replicated in today's Covid world, unless the policy settings are right to enable the sector to perform.
Workers need houses and the primary sector needs workers. For horticulture, we need seasonal workers for harvest and pruning. We now need to address how we establish the future of New Zealand, by getting the right policy settings in place.
A way ahead
Those that are affected by adverse events need our special attention. There is only so much that the Government can and will do. A myriad of support initiatives is needed but as with all things, these require money to fund. Some of the essential help that is missing is independent and expert advice about how to grow through adverse events and how to finance that.
The Government currently requires the grower and farmer to access this advice through their bank. This is somewhat problematic as it is the bank that is needed to finance the grower or farmer through the recovery. Recovery from hail and crop destruction is long and takes years. Bank finance is necessary but the best approach with the bank is to have advice incorporated into a plan, not going to the bank saying all is lost because the bank's interest is its money.
In addition, retention of staff and supporting the local community are vital. Wage subsidies have been paid to Covid-affected businesses but they are not available for other issues such as climatic events. The Ministry of Social Development offers a number of programmes but there is still a gap.
Can you contribute?
For these reasons, the horticulture industry established a charity to assist growers in need. That charity now needs your help so it can assist those in need. If you can contribute some money, please click here.
In these troubled times, we need to pull together and look after each other. Importantly, we need to ensure that the economic powerhouse of New Zealand – the primary sector – can continue to perform. For that, we need everyone's help.
Mike Chapman
Chief Executive